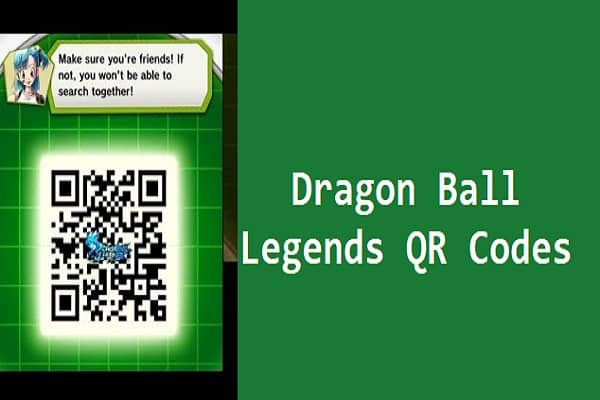 Dragon Ball Legends QR Codes 2023
Dragon Ball Legends, a mobile action RPG is inspired by the anime Dragon Ball series. It is developed by Bandai Namco & Dimps. This game features a unique Dragon Ball story and stunning visuals.
Players can enjoy great incentives with the title's monthly release of new redemption codes. These codes are in addition to those available for special occasions.
This article will provide step-by-step instructions for how to get various resources. It will also list active Dragon Ball Legends reward codes. These simple instructions will help players get unique rewards and quickly upgrade their game.
Dragon Ball Legends players are always excited when Shenron arrives at the game with QR codes. Each year, Shenron arrives in the game to celebrate its anniversary. The event lasts about a month and usually rewards players with Dragons balls or Chrono crystals. Are you eager to learn how to scan the QR codes for Dragon Ball Legends to receive amazing rewards? Continue reading to learn more.
What are Dragon Ball Legends QR codes and how do they work?
Dragon Ball Legends activates QR code-based rewards during its annual events, which begin on May 31st and last for one month. The game was released in 2018, and QR codes allow players to receive rewards every May.
When you play anniversary events, you will receive QR codes. These codes are available from May 31st to June 30th. These QR codes are not available for long periods of time every year. They are extremely valuable and worth revisiting whenever anniversary events start.
How to scan QR codes for Dragon Ball Legends
Follow the instructions below to scan the Dragon Ball Legends codes. We'll walk you through it step-by-step.
Launch the game. Once the game is launched, you can access the menu.
Click on the Scan button to activate it. This will activate your phone's camera so it can scan any QR codes that you have. You can also access images from the gallery on your phone.
The QR code can be scanned into your phone or used the camera to take a photo for your friend's game screen. You must ensure that the QR code is clearly visible on any saved image from your phone. Otherwise, the game will not be able to approve or read it.
You can then enjoy your rewards once you have scanned in the code. Validating the code will make this happen. You could receive Dragon Balls or Chrono Crystals as your rewards.
You can scan up to 3 QR codes per day.
Players should remember that they cannot scan QR codes from friends in their friend list. They can't scan random QR codes.
How to Find New QR Codes in Dragon Ball Legends
You can visit Twitter to see the official anniversary posts and find friends who are willing to share your QR codes. Everybody who plays their game around the world will log onto Twitter to share their codes with the rest of the world. This gives you access to a huge number of codes so that you always have something to try.
You can visit Twitter to check out the official Dragon Ball Legends Twitter Account and find tons Dragon Ball Legends QR codes. Your game account can allow you to scan up to three codes per day. You can only redeem as many balls as you want by scanning codes each day. However, you can earn more points if you take part in event challenges.
Also read: Lokesh Gamer Monthly Income, Free Fire Id, Phone Number
How to Summon Shenron with Dragon Ball Legends QR Codes
Do you long to summon Shenron, but aren't sure how? QR codes can be used to summon Shenron. We will show you how.
With the above method, scan up to three QR codes per day. All the rewards for scanning the codes are available. You can also collect the rest of the prizes through the event challenges.
After collecting seven Dragon Balls, You should be able to summon Shenron.
Summoning Shenron, is an annual feature Dragon Ball Legends developers activate during their anniversary. They can summon the magical dragon by scanning enough QR codes. You can fulfill one wish by summoning Shenron. Fandom allows you to choose whether to receive EN Tanks or 400,000 Zeni. You can choose.
What rewards can players get by scanning QR codes in Dragon Ball Legends
You can get all kinds of rewards when you scan QR codes for Dragon Ball Legends during the fourth anniversary (May 2022).
Sparking Medal.
Chrono Crystals.
Six-star Dragon Ball.
A mysterious ball with 1 star inside.
EN Tank.
Five-star Dragon Ball.
Three-star Dragon Ball.
Multi Z-Power.
How to Generate QR Code
Players can easily share their QR codes with other players. All players need to do is click on the "Get Code" button. This will display players' unique QR code. This can be shared with other players to earn rewards.
Conclusion
In the 2023 event, you can expect to receive many of the same rewards. Another reward is the Shenron activation. If you keep collecting Dragon Balls you will eventually get him. His appearance is a great change of pace in the game.
You can share QR codes with friends and family in the game. You can give codes to them, and they can get codes back from you. You should be prepared for the annual event and keep track of it so you don't miss any of the fun and rewards. This is where the Dragon Ball Legends community comes together to help each other. These special rewards are free, and you can access the QR codes as well as the rewards, as well the Shenron summon if you only participate in the annual event.
This is all players need to know regarding QR codes in Dragon Ball Legends.